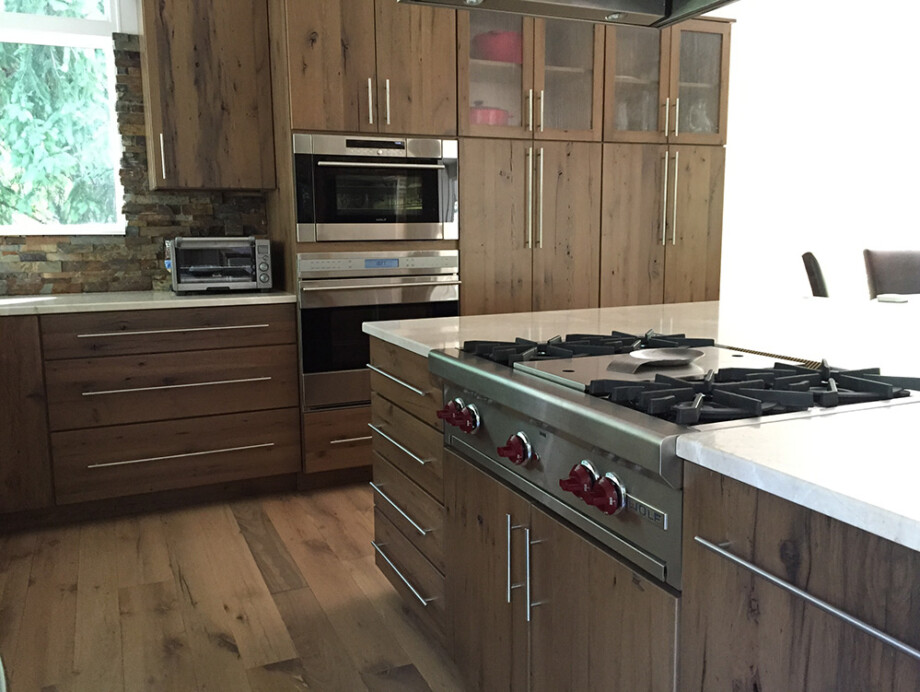 When you call Andrew L. Bruckner Inc., you'll talk to a Main Line kitchen remodeling specialist who can assemble the best crew of employees and local contractors for the job. You'll be able to choose from your favorite paint colors, counter tops, and cabinets. Take a look at our recent projects to get a better concept of our work. When clients call about Main Line kitchen remodeling, Andrew Bruckner often discusses the following aspects:
Open Concept
Open concept designs are becoming extremely popular in Main Line kitchen remodeling. Although the layout of older homes often make open concepts more challenging, Andrew Bruckner is able to come up with a design to suit any kitchen.
Cabinet Choices
Quality cabinets can make or break a kitchen remodeling. Andrew Bruckner offers custom cabinetry to his Main Line cabinets so that they're better able to achieve their dream kitchens. As a skilled cabinet maker, he brings a distinct style to his designs.
Flooring
Some of our Main Line clients opt for tile flooring for a modern kitchen design, while others opt for the rustic look of wide plank flooring. Andrew L. Bruckner Inc. can work with any style or taste. We also offer hardwood and laminate flooring to achieve a more classic look.
Backsplash
The backsplash is a great place to add a pop of color to your Main Line kitchen. Here, you can even incorporate different patterns to show off your creativity. You have unlimited options when it comes to backsplash design.
Appliances
Andrew Bruckner recommends high-end, stainless steel appliances for Main Line kitchen remodeling. Appliances from brands like Viking, Wolf, and Sub Zero add value to your kitchen, are built to last, and are easily incorporated into most designs.
Kitchen Remodeling on the Main Line
Remodeling and restoring your kitchen sometimes takes more than just one contractor. Hiring a Main Line general contractor is the best way to get everything you want out of a kitchen design. In addition to coming up with a remodel design, Andrew Bruckner will assemble the perfect team of trusted professionals to get the job done correctly and on time.
Looking for more than just kitchen remodeling? Check out our pages for home additions, cabinetry and bathroom remodels. We offer kitchen remodeling throughout the Main Line, including Ardmore, Bryn Mawr & Wayne.
If you are interested in kitchen remodeling or would like to get the opinion of an experienced Main Line general contractor, call (610) 642-3318 or fill out our Request an Estimate form.